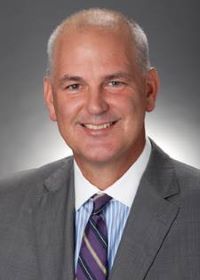 Message from Dwight D. Chenette, MPH, MBA, Chief Executive Officer
As I reflect on the challenges of the last year, I know for certain that the silver lining of 2020 was the unity and determination of our Aging Network providers and the caring generosity of the communities and funders which enabled us to serve more seniors in need than ever before. During 2020, contracted organizations of the Area Agency on Aging provided 1,805,209 meals to homebound or sheltering in place seniors – 1,088,706 more meals than the 716,503 provided in 2019. In addition, providers continued to care for individuals with dementia at centers and in the home. The shift from facility-based programming to delivering services to seniors sheltering at home was remarkable.
Secretary of Florida Department of Elder Affairs Richard Prudom thanked the Aging Network and our community funders for the "life-changing work being done" during the COVID 19 pandemic. I echo that sentiment and express gratitude to the United Way of Palm Beach County, the Community Foundation for Palm Beach and Martin Counties, the Quantum Foundation, Palm Health Foundation, Florida Power and Light, Palm Beach County Board of County Commissioners and the Department of Elder Affairs.
As we enter 2021 with an expectation an end to the pandemic, I recognize the innovative and dedicated efforts of our associates, volunteers, board members and our Lead Agency providers: Senior Resource Association of Indian River County; Okeechobee Senior Services; Council on Aging of St. Lucie County, Inc.; Council on Aging of Martin County, Inc.; Palm Beach County Division of Senior Services and The Volen Center.
I encourage you to explore our new website and discover the many resources available for seniors, adults with a disability, veterans and caregivers. Please take every precaution to stay safe and well during 2021.