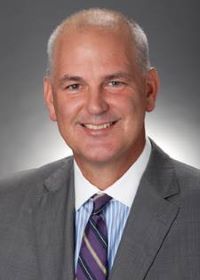 Message from Dwight D. Chenette, MPH, MBA                                                        Chief Executive Officer
As I reflect on 2022, I do so with enormous gratitude for the support and generosity our community has shown for us and the seniors, adults with a disability and caregivers we serve.
As a component of the Palm Beach County Hunger Relief Initiative and the Area Agency on Aging's mission to feed hungry seniors in the community, our organization received local funding from the United Way of Palm Beach County, the Quantum Foundation, Palm Healthcare, Palm Beach County, the Community Foundation for Palm Beach and Martin Counties and Florida Power and Light. This support greatly reduces the number of seniors who otherwise might go hungry or go without proper nutrition.
I have a deep sense of pride in the fact that we are able to continue all programs seamlessly and significantly enhance the level of service to seniors throughout the pandemic both internally and through our providers in the aging network.
As we enter 2023, I recognize the innovative and dedicated efforts of our associates, volunteers, board members and our Lead Agency providers: Senior Resource Association of Indian River County; Okeechobee Senior Services; Council on Aging of St. Lucie County, Inc.; Council on Aging of Martin County, Inc.; Palm Beach County Division of Senior and Veteran Services and The Volen Center.
The Agency's Helpline is the gateway to services for seniors and their caregivers. If you know of individuals who may be in need of assistance, please refer them to the Helpline at 1-866-684-5885.